Intelligent Standalone Luminaires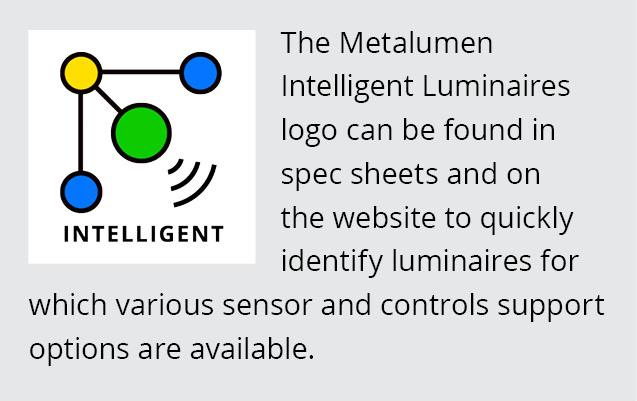 Metalumen offers intelligent standalone luminaires with integrated occupancy and/or daylight harvesting capabilities. Standalone luminaires offer independent control based on integrated sensors (i.e. Occupancy and/or Ambient Daylight).
A common approach today is to utilize a single occupancy or daylight sensor in a given space that controls multiple luminaires that are hardwired to the sensor as a physical group. This single occupancy sensor, for example, will turn the whole group of luminaires on or off based on its sensing configuration.
Intelligent standalone luminaires operate differently in that each luminaire has its own dedicated sensor. Each luminaire responds to the conditions its dedicated sensor detects. This allows for more granular control and localized illumination adjustments that can result in further potential energy savings or more flexible configuration.
Some sensor options are available with flexible configuration via Bluetooth thus eliminating the need to open luminaires, climb ladders or adjust dip/rotary switches. Bluetooth configuration allows for simple and flexible adjustment of the behaviors (vacancy delay times, hold times, intensity, sensitivity etc.) via an intuitive mobile App. If your application needs change, you can simply and quickly adjust behaviors directly via the mobile configuration app.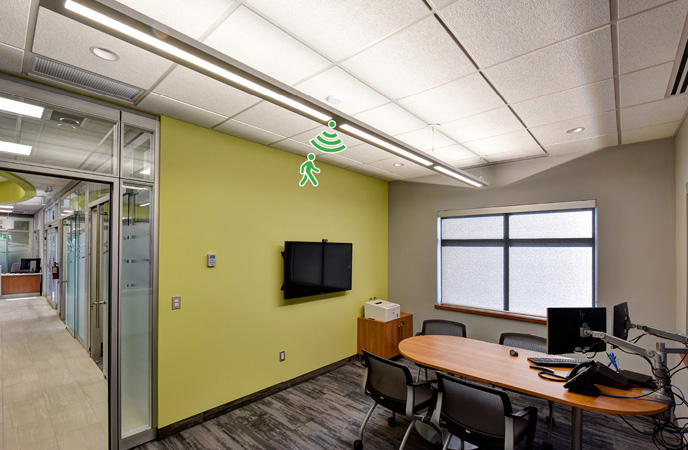 Contact Metalumen if you have specific sensor preferences/requirements and we can work with you to provide the solution you require.
Intelligent Connected Luminaires
Metalumen offers many different options for connecting luminaires to your favorite smart lighting control platform enabling maximum control flexibility and building code compliance. Intelligent connected luminaires enable flexible reconfiguration of zones and lighting behaviors allowing quick and easy adjustment to spaces as your needs evolve. Data from fixture integrated connected sensors can also enable advanced insights into building operations such as occupancy and space utilization, energy consumption, and environmental conditions (i.e. temperature and/or humidity). This data and more can be shared with other building systems (HVAC, Security etc.) or used for other advanced IoT applications and insights.
Many options are available as fixture integrated solutions or via external modules. Please contact Metalumen for more details and to check for availability in the luminaire you want.
*Control system, installation and commissioning provided by others.
Benefits
– Support for advanced sensing such as daylight harvesting, temperature monitoring, occupancy/vacancy sensing.
– Monitoring and reduction of energy usage.
– Meet requirements for compliance with building and energy codes.
– Simple re-zoning/grouping allows reconfiguration of areas to meet the dynamic and changing needs of your space.
– Monitoring of space utilization enables potential identification of wasted underutilized space that may be costing you money, or represent income opportunities.
– Provide customized / personal user-based control for optimum occupant comfort and productivity.
Availability
Please contact Metalumen to check for availability if you don't see support for the controls platform you are looking for.